Germany - Full Moon 226 - 02/04/15

Edgar Willmar Froese
6 June 1944 - 20 January 2015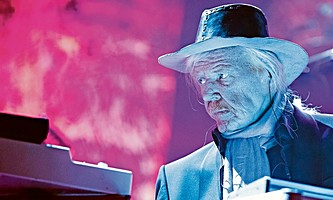 Guitarist and keyboardist Edgar Froese died abruptly caused by pulmonary embolism, only 70 years old. He started the rhythm'n'blues based band The Ones in West Berlin in 1965. While on tour in Spain in 1966 and 1967, The Ones were invited to play at Salvador Dalí's villa outside Cadaqués, north of Barcelona, close to the French border. The meeting with the eccentric artist, then in his 60s, made a profound impression on Egdar. 'I thought I would do in music the same as he did in painting', he has stated. When The Ones reached home to Berlin, the band broke up and Edgar started a more adventourous band, that he kept going until his death. I think we've summed up the development of Edgar's Tangerine Dream in our run-though of their epic Zeit album from 1972.
In addition to Tangerine Dream's vast back catalogue, Edgar released more than 20 albums as a solo artist. And, only the last two years saw the release of no less than eight Tangerine Dream live albums and a couple of EPs. It seems he performed live with his band for the very last time Melbourne, Australia on 16 November 2014.
May the once so bold cosmic explorer have found peace!
Photo credit © David Wolff-Patrick/Redferns
Copyright © 2015 JP