US - Tennessee - Full Moon 60 - 09/02/01

Big Star
Mean Fiddler, London, 09.08.01


Big Star = Big Fun!

Other Bands reunite, go on a major tour, record new albums and generally walk on thin ice. Because reunions of legendary bands usually tend to be more of a curse than a blessing - both commercially and artisticly.

Big Star don't have these kinda problems. Simply because they only exist for fun these days. A new record, it has been pointed out by Alex Chilton many times, is nothing they even think about. Probably because Chilton is too busy trying to shake off the ghosts of his past that still haunt him, the people that call him a rock n roll messiah, although by releasing albums full of poorly recorded cover versions he's slowly getting where apparently he wants to go. Jody Stephens is obvioulsy busy with other things too, being a represantative of Ardent Studios in Big Star's hometown of Memphis and Ken Stringfellow and Jon Auer - in the band since it reformed in 1993 - usually can be seen playing solo and as The Posies.

With this sold out London show (the last gig of a three date tour and apparently only their fifth ever show in Europe) they proved that without the pressure from a label, promoter or management, a band just tends to be better. First on the bill though where Arnold, one of the few bands Alan McGee rescued from the wrecks of Creation Records and signed to his new imprint Poptones. And it's quite simple to realise why he would love them so much: They use a formula similiar to the one that made Oasis, um, Big Stars and while that gets pretty boring in the long run, they where alright as the opening band.

Next up where The Acoustic Posies with a very relaxed performance, great harmonies and some very funny inbetween song banter. While Ken was concentrating on lesser known material like My Big Mouth or Farewell Typewriter, Jon chose to play the big hits, like Suddenly Mary and Dream All Day. They closed with You're The Beautiful One, dedicated to their sickly manager Barbara Mitchell, and with the promise that the best was yet to come, they left us after a nice 45minute set.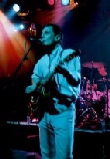 And then: Big Star. At first Chilton looked very much like an old highschool teacher of mine with his washed-out jeans, his less than ordinary shirt and his round glasses, but the minute he started kicking his amp before they even played the first song (it was feeding back constantly), it all changed. The power and intensity which with Big Star played the choice cuts from their three 70s albums was in one word: overwhelming. And the countless celebrities in the audience went nuts as soon as the first song - In The Street - kicked in. Big Star played their regular set, similiar each night since their reunion eight years ago (although they obviously only play a handful of shows each year) and so Stephens, Stringfellow and Auer had their share of lead vocals as well. As egocentric as Chilton may be, he even allowed Ken to be center stage.
Very rarely at shows you get the eerie situation that the artist on stage plays one of his most famous song, but instead of going crazy the audience just remains silent, as if they couldn't believe to actually see a legendary performer do one of his best ever songs live after all these years. Usually you only get that when Neil Young starts After The Goldrush or Bob Dylan does Visions Of Johanna (lovely title...[sigh] - editor's note). Tonight we get this situation twice. First when Alex starts an electrified, re-arranged Thirteen and then again for September Gurls, a song the younger people in the audience probably first heard when the Bangles did it in 1985 (they actually perform it live to this day, too). Wow!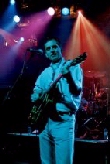 Shortly after a very fitting Thank You Friends and a funny, improvised lounge version of the Beatles' Let It Be, Alex announced that Big Star are gonna record another album soon (!) and that they would now play a couple of tunes from it. Not only the surprised looks on Jon and Ken's faces tell me that he might not have been entirely serious. However they did their "new songs", Patti Girl and Hot Thing, the latter once again proving that Chilton is capable of coming up with a Big Star classic any day - if he wants to. The single highlight of the night was a cover though: First played the night before in Dublin, Alex introcuded the song by warning the audience that it might fall apart halfway through. The song in question was Wouldn't It Be Nice by The Beach Boys and it was played note perfect. It fact it made you wonder why Brian Wilson used dozens of people on Pet Sounds when Big Star can do it EXACTLY the same way with four people on stage. A truly great moment!
Then the houselights went on, the taped music started, mics were unplugged and the show was over. After all Big Star had passed the strict british curfew by 5 minutes already. The audience just didn't leave though. Rarely have I heard 1,500 folks make so much noise. So the four guys returned and while countless people were shouting for Oh My Soul and Jesus Christ, Alex informed us that a) we were breaking several laws by asking them back on stage ("totally fine with me", he added, smiling) and b) that he would like to end the night with a disco song. In fact, a disco song the band had never played before, so he took the time to show Ken and Jon the chords on stage (!) to end the night with a pretty well done Get Down Tonight by KC & The Sunshine Band!
Maybe Big Star are anachronistic, but judging by the happy people leaving the Mean Fiddler after this great, great set, they must have done something right. I for one expect a good show, but wasn't quite prepared for such a brilliant concert, both as far as sound and performance was concerned. As bitter as Chilton may be most of the time: Tonight seemed to be a rare moment where he really was proud of his past. And who could blame him?
Copyright © 2001 Carsten Wohlfeld (photos also)