Norway - Full Moon 171 - 08/24/10

Willy Bakken
24. juni 1951 - 23. juli 2010
 

Willy B, guitarist, band-leader, writer and greatest expert in Norwegian underground rock etc. etc. didn't survive his struggle against cancer. May his distinctive and distorted guitar sound for a long time to come!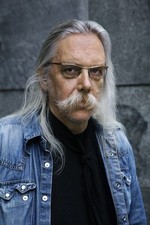 Jeg har skrevet noen nekrologer her på Luna K. tidligere, men dette er annerledes. Willy B er den første bekjente i den sammenheng. Willy var en personlighet, journalist, fagbokforfatter, forlagsdirektør, b-kulturforsker, fanzineredaktør og -utgiver, arkivar, musiker, dyrevenn, hardbarka vegetarianer, avholdsmann... og mye mer. Mitt første kjennskap til mannen var gjennom skriveriene hans i den på den tida uavhengige musikkavisa Nye Takter. Willy, med sin umiskjennelige muntlige skrivestil, greide å pirre nysgjerrigheten for band som til da hadde vært nokså ukjente for meg og mange andre unge musikkhungrige, som Spirit, Pretty Things, The Misunderstood, endog The Cramps. Det var den rotekte rocken med basis i blues som sto Willys hjerte nærmest, både de største navnene som Stones og Janis Joplin, men aller helst de litt mindre, de obskure og ikke minst de underkjente som dem nevnt over. Jeg tror forresten aldri Willy helt kom over at Randy California i hans kjære Spirit druknet i 1997 da han prøvde å redde sønnen sin... Men Willy var egenrådig som få og hadde evnen til å overraske med å trekke fram musikk utenfor r&r- og r&b-rammene når han mente det. I en oppsummering over de beste platene fra 1979 uttalte han fullstendig musikkpolitisk ukorrekt (ikke minst på den tida) at LPen China med Vangelis var noe av det skjønneste som noen gang var laget. De øvrige albumene var for øvrig med George Thorogood & The Destroyers, en bootleg (!), Moondog (!), en samling med The Roots Of Rock'n'Roll (som ikke var fra 1979, men Willy hadde fått tak i den det året!) og Eddie Cochran (ikke helt fersk vare i 1979, han heller...).
På forsommeren 1981 debuterte gitaristen Willy B som plateartist, en sjutommers singel med bandet Stangwolff, hjerneføde fra selskapet Mind Expanding Records. Den druknet i viraken rundt en annen singel som ble utgitt på samme selskap samtidig, "Dra Te Hælvete" med Beranek... Seinere sto Willy bak mer profilerte singler med Crawdaddy Simone og Willy B Review. Det siste bandet eksisterte fra midten av 80-tallet og fram til han døde. De hadde sin siste konsert i fjor høst og ga også ut et par-tre album. Men det var nok det lille vinylformatet som Willy satte mest pris på selv, og gjerne at singlene ble plukket opp av entusiaster både nært og fjernt. Noen kommersielle hensyn var det aldri snakk om. Det må nevnes at Willy på sitt vis var en jentefut til tross for sitt monogame samliv gjennom nesten 30 år. Han greide å trekke fram diverse heller ukjente kvinnelige talenter til bandprosjektene sine. Og det var ikke snakk om kjønnskvotering, bare kvaliteter av det slaget Willy var på jakt etter. Freske fraspark ble det både fra gitarer og vokaler!
Willy var definitivt den norske Pete Frame. Det er ikke lett å sette tall på de mange nitidig opptegnede stamtrærne han utforsket og utformet, hovedsakelig viet norske band. Selv om han ikke virket spesielt interessert i norsk rock i starten, var det Willy som var først ute med å samle den norske rockehistorien mellom fire permer, i de to bindene av Norge i Rock, Beat & Blues fra 1983 og 84. Derfra utviklet han seg til å bli den største kjenneren av norsk rock, både over, men spesielt under grunnen. Og det ble diverse andre bokprosjekter om rock (I Dovregubbens Hall, Vol. 1) og annen norsk b-kultur som pocketbøker (Vakre Damer og Blodig Død), ukeblader og magasiner (Drømmenes Marked) og illustratøren til svært mange bok- og bladomslag (Sten Nilsen: Et Liv med Farger i Svart/Hvitt). Desto mer synd at han aldri fikk ferdigstilt I Dovregubbens Hall, Vol. 2, dernest boka om hans norske hjertebarn Motorpsycho som han jobbet med i flere år og på det nærmeste var ferdig med. Og hva skjedde egentlig med den planlagte CD-ROMen hans, antakelig det mest omfattende verket om norsk rocks historie noensinne? Et nytt nummer av fanzina hans Jello Submarine (det siste i sitt slag, dvs. i papirformat?) var også på trappene. Vi får håpe noen har vett til å følge opp slik at disse prosjektene kan publiseres i en eller annen form, før eller siden.
Sjøl hadde jeg gleden av å jobbe sammen med Willy i Rock Furore og Jello Submarine med ujevne mellomrom gjennom nesten 20 år. Vi møtte hverandre ikke for ofte, men det var både hyggelig og lærerikt når det skjedde. Da fungerte Willy som den storebroren jeg aldri hadde, med interesse og entusiasme for omtrent det samme som meg sjøl. Så får vi heller prøve å tilgi at han var Man. U.-fan. I begravelsen fikk vi høre at han og en venn hadde fått økt gjensidig respekt siden de begge samlet på bæreposer fra platebutikker. Vel, da var vi i hvert fall tre...
Willy ble en ihuga entusiast for e-post og Facebook de siste årene. Det tok sjelden lang tid før han ga tilbakemelding. Desto mer urovekkende da det på ettervinteren ikke kom noen svar. Willy hadde mye vondt og kjempet en hard kamp særlig før det omsider ble konstatert at han hadde kreftsvulster både i rygg og nakke. Behandlingen på Radiumhospitalet og A-hus tok tid. Da han på det nærmeste var kurert, kom tilbakeslaget, og han ble på nytt innlagt på A-hus. Jeg snakket med ham seinest fire dager før han døde, en kort samtale. Da var han svak og sliten, men på bedringens vei, mente han, og skulle ta kontakt igjen så snart han kom hjem. Slik gikk det ikke.
Vanligvis avsluttes slike skriverier med et hvil i fred. I Willys tilfelle får vi håpe at det fortsatt blir mye bråk, i hvert fall fra gitaren hans; den mest forvrengte i norsk rocks historie på denne sida av black metal!
Copyright © 2010 JP